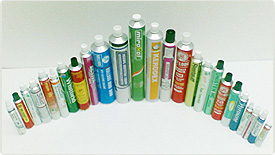 We manufacture Aluminium Collapsible tubes in various diameters ranging from 10 mm to 31.75 mm & of any length ranging from 50 mm to 180 mm.These are mainly used for packing pharmaceutical products, toothpastes, water colours, shaving creams and many other applications as described in detail below.
Aluminium Collapsible Tubes Specification
Outer diameter (in mm)
Length (mm.)
Approx. holding capacity (gm.)
Min.
Max.
10.00
50
70
3.0-5.0
12.70
50
80
3.0-7.0
13.50
60
75
5.0-7.5
14.20
70
76
6.0-10.0
16.00
80
114
10.0-20.0
19.00
76
123
14.0-25.0
22.20
102
127
25.0-50.0
25.40
114
158
50.0-75.0
27.00
133
160
60.0-150.0
31.75
145
183
60.0-150.0
ADVANTAGES OF ALUMINIUM COLLAPSIBLE TUBES
TAMPER-PROOF : Makes adulteration impossible. Cannot be re-filled or re-used.


PROTECTIVE : Contents remain well protected and free from contamination.


ELEGANT : Attractive Possess a bright surface and lend themselves to trouble-free printing, this enhances shelf and customer appeal.


NON-TOXIC & HYGIENIC : Non -Toxic, hygienic, non-absorbent, Impart no taste, flavour, odour or color to contents.


LIGHTWEIGHT : Easy to handle. Reduces transport and handling cost.


COMPLETE COLLAPSIBILITY : Highly ductile, ensures complete collapsibility.


EASY AVAILABILITY : Aluminium Colapsible tubes are easily available.


ECONOMICAL : Costs less than Tin or lead tubes. Needs no varnish.


USER CONVENIENCE : Easy to use, unbreakable, easy to carry, light in weight, hygienic, non-toxic.


FILLING EQUIPMENT : The machines used in filling and sealing collapsile tubes are available from a number of manufacturers in either hand operated, semi-automatic or fully automatic styles, we can also supply the same maufactured by us. Rates will be given on request.


MAJOR USES OF COLLAPSIBLE TUBES
Pharmaceuticals : Antisetic Creams, Pharmaceutical Creams, Ointments, Vaginal jellies, Veterinary creams.


Industrial Products : Adhesives, Artists' Colors & Color Paints, Duplicating Inks, Lubricants, Rubber Solutions.


Food Products : Chutney, Condensed Milk, Honey, Mustard Cream, Tomato Ketchup.


Cosmetics & Toiletries : Cosmetics Creams, Cream Shampoos, Deodrant Creams, Depilatories, Hair Creams, Hair Dyes, Shaving Creams, Tooth Pastes, Medicated Tooth Pastes.


Household Items : Cream Detergents, Insecticides & Rodenticides, Creams, shoe Polishers, Mosquito Repellent Creams.
We look forward to serve you for your requirement of Aluminium as well as Laminated tubes.