Collapsible Tube Corporation was established in 1971, and is managed by Mr. Lalit Talati. Today it boasts of 3 manufacturing lines with a combined manufacturing capacity of 150,000 tubes/day.
At CTC we have every facility for manufacturing Aluminium Collapsible Tubes, Rigid Containers, and Multi-layer Laminate tubes. We have a complete infrastructure right from four colour printing, lacquering and latex lining.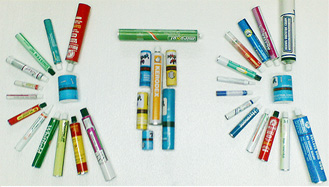 Manufacturing Aluminium Collapsible Tubes is our main business however we are also make machinery and provide consultancy services for Manufacturing Aluminium Collapsible tubes.

Our vast experience in the industry and engineering know how has enabled us to increase the scope of our business to provide consultancy services for setting up of a pharmaceutical manufacturing units also.

We have a fully equipped tool room that ensures precision toolings and immediate response to break-downs , all our factories are manned by skilled and proficiently trained personnel and abide by the ISO 9001:2000 Quality Management System ensuring that the quality of our products is maintained and is reproducible.
At present we are catering to needs of buyers from within India as well as foreign buyers from U.S.A, Kenya, Uganda, Malaysia, Nigeria, Cyprus, Nepal, South Africa, Tanzania, Ghana etc.